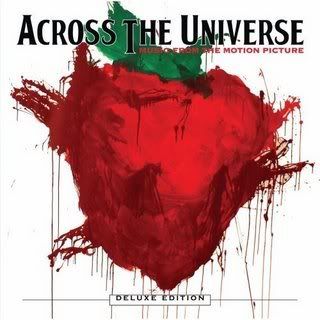 I found by chance this B.S.O, The Beatles. What can really be said about them that hasn't already been said a hundred times before? They were one of the greatest bands of all time. That much is clear.
And I feel I should make it known that when it comes to people covering their songs; songs which I adore, I'm usually against it because they inevitably take away whatever original magic was there, replacing it with something cold and lifeless.
I've listened to more Beatles covers then I care to mention and have been continually disappointed. I never thought it would take a bunch of actors to create what I think is the most amazing collection of Beatles covers I've ever come across. But somehow that's what's happened.
The recent film by director Julie Taymor, Across The Universe, is an amazing movie. Visually gorgeous, fantastic cast, great storyline; however, the thing which makes it special is its soundtrack. The movie is actually more of a musical, with most of the story being told through song. More importantly the songs of The Beatles.
The actual soundtrack album is an incredible double disc package featuring 31 Beatles tracks. Most of which are sung by the core cast. The majority of which don't consider themselves professional singers. If you listen very closely you might also catch a few guest performances from the likes of Joe Cocker, Bono and Eddie Izzard.
The result is just incredible. The songs have an energy and life to them I think most fans would enjoy. And the arrangements are respectful yet still manage to be innovative.
The standout track for me would have to be the incredible 'Strawberry Fields Forever' sung as a duo by Jim Sturgess and Joe Anderson. Others I can't seem to stop listening to include 'It Won't Be Long', 'I Want You (She's So Heavy), 'Dear Prudence', 'Happiness is a Warm Gun' and 'Hey Jude'.
If you're a fan of The Beatles in any sense then I strongly recommend Across The Universe. Whether you see the film or just listen to the soundtrack I promise you won't be disappointed. It completely altered my perception of covers. Let it do the same for you.
::note:: So I know I've written a bit of an Across The Universe rant a little further down but I write a weekly album review for a local newspaper and since it was a pretty slow music week I decided to just write up a quick soundtrack review. I'm sure you don't mind.
LISTEN SONGS FROM YOUTUBE