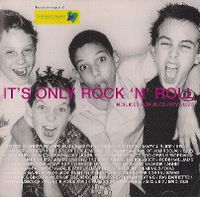 They just couldn't resist, could they? .December 1999, A cover of an old Rolling Stones classic, this one features loads of top pop and rock stars belting out a fantastic rock tune. Not to everyone's taste, but hey, it's for charity so we'll let them off..
Various artists for children's promise.
Keith Richards, Kid Rock, Mary J. Blige, Kelly Jones of Stereophonics, Jon Bon Jovi, Kelle Bryan, Jay Kay of Jamiroquai, Ozzy Osbourne, Womack & Womack, Lionel Richie, Bonnie Raitt, Dolores O'Riordan of The Cranberries, James Brown, The Spice Girls, Mick Jagger, Robin Williams, Jackson Browne, Iggy Pop, Chrissie Hynde, Skin of Skunk Anansie, Annie Lennox, Mark Owen, Natalie Imbruglia, Huey, Fun Lovin' Criminals, Dina Carroll, Gavin Rossdale of Bush, B.B. King, Joe Cocker, The Corrs, Steve Craddock and Simon Fowler of Ocean Colour Scene, Ronan Keating, Ray Barretto, Herbie Hancock, Francis Rossi & Rick Parfitt of Status Quo, S Club 7, Eric Idle.