Deal reached with BBC over coverage of the veteran band's first-ever performance at the festival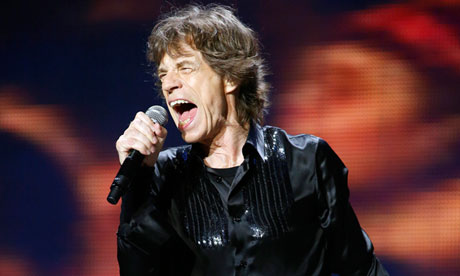 Music fans will be able to watch an hour of
the Rolling Stones
' headline set at Glastonbury on TV after a deal was reached over coverage of the veteran band's first-ever performance at the festival.
The band, who are scheduled to play for two hours and 15 minutes on the Saturday night of the festival, had at first reportedly limited the
BBC
to broadcasting four songs from their show. Urgent talks were then held between the parties.
But speaking yesterday, amid preparations for the festival's 43rd year, organiser
Michael Eavis
said: "I think they're all friends now. They're going to be playing for about an hour for the TV. I think
Mick Jagger
wanted to play to the people here, rather than a TV show."
Only those at the festival will see the band's finale, with fireworks set to light up the sky over Worthy Farm. Fans can expect a spectacular show, with 90 minutes between the end of the previous set on the Pyramid Stage – by Primal Scream – and the arrival of The Rolling Stones to allow for their set to be built.
Eavis admitted that the Rolling Stones could even be too popular. "With the whole Stones thing, there might be a problem with the size of the crowd so it's slightly worrying for me, in a way," he admitted.
The Pyramid area has been extended to allow for the thousands of fans expected for the band's set in a bid to avoid any problems with overcrowding. It is also hoped festivalgoers will spread themselves out across the site when top acts are performing at the same time.
"I'll be in there myself," Eavis said. "I'd love to see the Stones. It's taken a long time to get them to come and play. Everyone wants to see the Stones, basically."